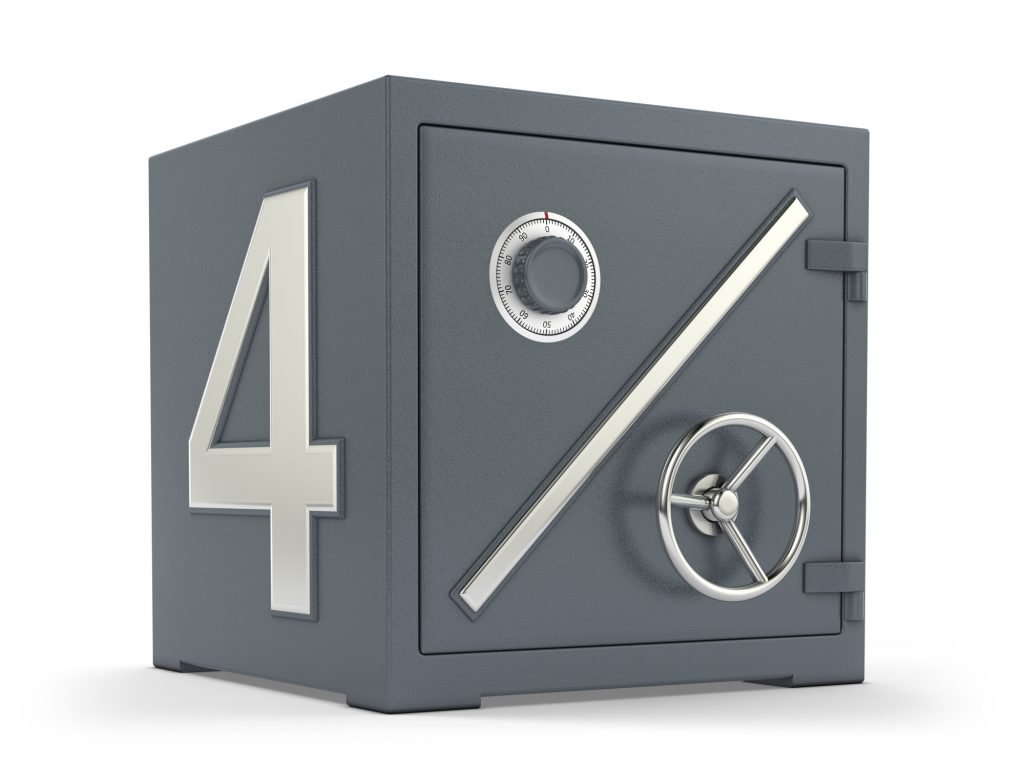 During your saving years, your main goal is to accumulate wealth so that you have the resources to achieve a comfortable retirement. But that is just half the battle. How you use your savings to cover your living costs is the real key to living the retirement you dream of. You may have done some research on what strategies you can use to provide yourself with the income and liquid cash you need to cover your expenses in retirement and come across a few general, cookie-cutter strategies, such as the 4% rule.
What is the 4% Rule?
The 4% Rule is a general rule of thumb that is meant to help guide your decisions on how much you can and should withdraw from your retirement savings each year. The purpose of adopting the rule is to keep a steady income stream while maintaining an adequate overall account balance for future years. The withdrawals will consist primarily of interest and dividends on savings.
With a guardrail like this, you can get a good idea of how much you'll need in savings to cover your costs and help avoid running out of money.[1]
Is the 4% Rule Realistic?
Experts are divided on whether the 4% withdrawal rate is the best option. Many personal finance experts say that 5% is a better rule for all but the worst-case scenario. And some caution that 3% may be safer in current interest-rate conditions. However, the truth is that the 4% rule is simply not a comprehensive strategy. Whether you should use 3%, 4%, or 5% will likely depend on your unique financial situation. And even then, your income may not even be set to come from investment withdrawals in the first place!
Where Does the 4% Rule Fail?
The 4% Rule makes a lot of assumptions and is simply not designed to be an all-encompassing, actionable strategy for anyone to pick up and use. It doesn't factor in your healthcare coverage situation, it isn't designed to avoid the 3 strikes of tax planning, and it doesn't account for the location and liquidity of your wealth and savings.
However, the 4% Rule may be used as a conversation starter with your financial advisor on how to turn your savings into income. There are many moving parts to a retirement plan that must be considered if your goal is to make the most of your savings.  Click here to sign up for a complimentary review of your financial plan.
[1]
https://www.investopedia.com/terms/f/four-percent-rule.asp
---
Please Note: Epstein & White is a tradename. All services provided by Epstein & White investment professionals are provided in their individual capacities as investment adviser representatives of Mercer Global Advisors Inc. ("Mercer Advisors"), an SEC registered investment adviser principally located in Denver, Colorado, with various branch offices throughout the United States doing business under different tradenames, including Epstein & White. Information contained herein is for informational and illustrative purposes only and general in nature.  It should not be considered investment advice or a recommendation to buy or sell any type of securities or insurance products and no investment decision should be made based solely on any information provided herein. We provide this information with the understanding that we are not engaged in rendering legal, accounting, or tax services. We recommend that all investors seek out the services of competent professionals in any of the aforementioned areas.
Investment in securities carries a risk of loss, including loss of principal amount invested.  Different types of investments involve varying degrees of risk. It should not be assumed that diversification or asset allocation protects a portfolio from loss or that such will produce profitable results. An annuity's guarantee is subject to the claims-paying ability  of  the issuing insurance company.